Hi, my name is Mila and I love life! 🍉 ☀️ 💦




I have no idea how you found my tiny little site, but if you don't know me from somewhere else and googled my name, then we should call it serendipity and roll with it 🦋

I move around quite a bit. At the moment I am staying in Europe living with my lab Nana, a 42 lb bundle of joy who likes the simple pleasures of life: eating, sniffing piss and licking the carpet.




I send personal emails once in a while with stories about my life, pictures of things I am doing, cool music, meaningful thoughts, stuff I stumble upon... shameless self promotion... anything that I believe will resonate.

Here are some of the silly pics I sent with my last email: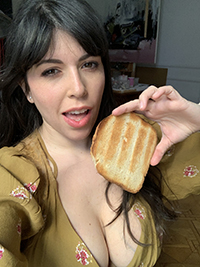 If you want to add your email to my list you can enter it in the box below, click on "subscribe" and that way you wont miss anything I send in the future 💕



That's it! Thank you for reading through my little site and I wish you a beautiful week full of adventures, delicious food, and good company! See you in your inbox 👋

Mila.

🏝 🍰 🍀 🛩 🍉 🌻 🐶 ✨ 👙 🍌 🏓 🌈 🌸 🍪 🎨 💋