Hi, my name is Mila and I love life! 🍉 ☀️ 💦



I have no idea how you found my tiny little site, but if you don't know me from somewhere else and googled my name, then we should call it serendipity and roll with it 🦋

Now let me tell you a little bit about myself:

My three favorite things are food 🍕 music 🎧 and traveling ✈️ and one of my biggest flaws is being a novelty chaser so I move around quite a bit.

Currently I am staying in Europe living with my lab Nana, a 42 lb bundle of joy who likes the simple pleasures of life: eating, sniffing piss and licking the carpet.




You might think I am cute, but Nana is the real deal. Last week the maintenance man left her a treat by my door, seems like she has a fanboy.




Hey, I want to tell you something a little more personal so if you like music as much as I do, this is one of the songs I am obsessing over at the moment and you can listen to it while I tell you this story:


After goofying around on the internet for almost a decade, I don't believe in social media anymore. It turns half the people into display windows more worried about arranging the items in it than living their lives and the other half into window shoppers who just lurk 👀. It makes it really hard to form connections or have the intimacy necessary to say anything meaningful.

For this reason I have moved back, in time, to the beginning of the internet and only talk about myself via email. I remember what it was like to write something intended for another person, thinking of them instead of yourself. Call me "grandma" but it looks like I struck a chord because I started writing to a handful of friends and my emails are now opened by thousands of people.

These are the pics from the last email I sent about discovering the dream that is brioche bread 💖 It isn't always a deep thing 🙈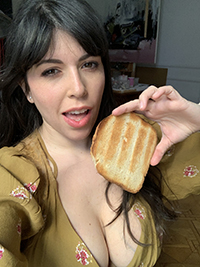 I used to be able to add anyone who wanted to receive my emails manually, but the volume is too big now to handle it myself so I am using a service that compiles all the emails for me. If you want to add your email to my list you can enter it in the box below and that way you wont miss anything I send in the future 💕



Aaaaand that's it! Thank you for reading through my little site and I wish you a beautiful week full of adventures, delicious food, and good company! See you in your inbox 👋

Mila.

🏝 🍰 🍀 🛩 🍉 🌻 🐶 ✨ 👙 🍌 🏓 🌈 🌸 🍪 🎨 💋